Simplifying your day
Always included simplifies your everyday life. Get full overview of your customer, projects, meeting, tasks and much more – in one system.
Pipeline
Gather all your projects in one place and keep track of their progress. The time management function helps you keep an eye on time spent.
Perfect for startups looking to grow
This module is perfect for startups. All settings are flexible and can be adapted to your needs.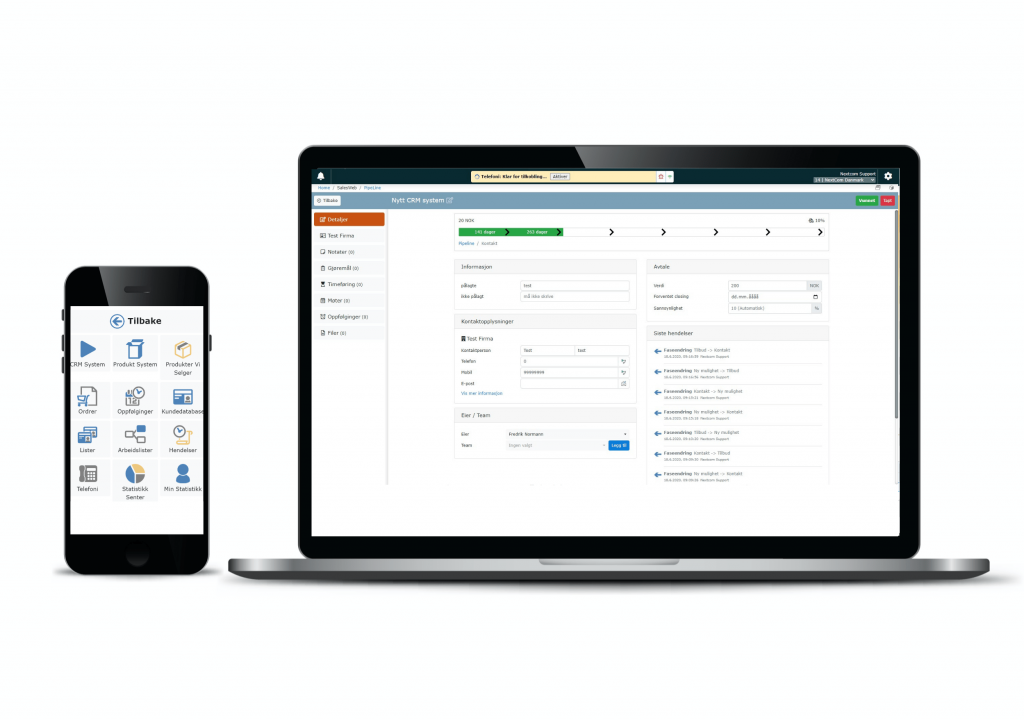 Intelligent and modern system
One of the market's most intelligent and modern systems, packed with useful functionality.
Packed with useful functionality:
Customer database
Create and manage customer categories with all relevant information regarding your customers – in one place. Look up anything from business information and contact information, to key financial information. Retrieve credit information and rating directly from Bisnode, either manually or automatically. All events, such as meetings, follow-ups, notes, files, outgoing invoices, manual invoices, remarks etc. will be registered. You will find e-mail, SMS and telephone history, and additionally you can choose to register customers as agents of your business. This unveils the full sales commission overview where agent commission basis can be created, based on chart of accounts, interval, volume/quantity, invoice status, agent commission rate, etc.
Pipeline management tool
Gather all your projects in one place and keep track of each project's progress. Track time with the time management function. Managers get an overview of the number of cases or tasks each consultant is working on, and how the pipeline looks in terms of budget and forecast.
List management
The intelligent list management system handles all existing and potential customer lists, which are uploaded manually or automatically, with predefined names and content of your choice. Here you can set up lists by purpose, budget, sales restrictions, department, team, group, person, product and supplier. Segment the lists the way you want, according to custom and demographic criteria. All lists contain detailed statistics overviews.
Product system
Nextcom's product system is an intelligent solution that handles product categories, individual products, checklists, order confirmations, sales restrictions, bundle codes, images, inventory, points and commissions per product, department, etc. This is perhaps the market's most dynamic and flexible product system, in which you by using a unique special feature get the possibility to adapt and integrate virtually everything you can wish for – without requiring external development or special skills.
Order and task management
Order and task management is built up with automated follow-up patterns, checklists, routines, response codes, etc. This automation applies from the first step in the sales process and carries on until the customer confirms the sale, and further until the customer has received the desired product or service. Whether you are selling for your own business, or on behalf of a client: Confirmed offers and orders are automatically registered in the system, and various tasks and activities are created for the person or team responsible for the further process.
The system ensures that all sales activities go through predefined order and task statuses. The workflow is determined based on whom is responsible for what in the given departments. Due to the automated processes, all iterations made along the way help safeguard against making human errors.
Statistics center
This is where you find statistics on events such as time consumption, offers, follow-up, unresponsive, rejected and total sales, unconfirmed orders, department, shifts, hours, days, methods, budget, segmentation, etc. The system can display statistics for each individual employee based on daily time consumption for sales, follow-up, unresponsive sales, rejected sales, meetings and support.
Integrated telephony*
Integrates dialer, lines and telephony into your own system. In addition, you get features specially developed for sales offices and call centers, including one of the market's top predictive dialer systems. * This is an additional feature of CRM Basic.

Corporate structure
Our Enterprise Planning System (EPS) sets up the organization's corporate structure with parent, sister and/or subsidiaries with subordinate departments, putting you in full control of the entire organization's business areas.
Customizable settings
Most companies have their own particular needs. This feature allows you to customize settings to suit you. For instance, you can customize according to industry or purpose, or create your own templates for checklists and routines. The system easily integrates third-party vendors.
Calendar and meetings
Here you get a comprehensive overview of all your tasks, meetings and calendar entries. You additionally get an overview of coworkers' shared calendar entries. The calendar synchronizes with both Office365 and Google Calendar.
Travel invoice
At the simple strok of a key, you can create complete and approved travel invoices. All necessary information has been completed and prepared for submission to accounting.
E-mail
Used for quotation and order confirmation.
Internal newsletter
Information flow is important, also internally. Create an information page where you can upload the newsletter. All posts can be timed and displayed to defined groups.
Folders
Here you can create your own folder structure where you upload files and photos in a folder that can be shared with colleagues. Choose if you want to share individual files per email or per download.
News monitoring
Monitor news in disciplines, industries, companies, etc., and receive continuous notification so that you can stay up to date on recent events at all times. You can also search in all our news archives, and with a single keystroke share news on your Twitter profile. In addition, you receive daily updates on new companies that are registered in the Brønnøysund Register.
Sharenote
Create, work on live, and share text documents with others. You receive a notification if someone shares a document with you and when one of the participants has made a change to the document.
Visitors
Handles entry and exit registration of personnel and acts as an unmanned front desk for visitors.